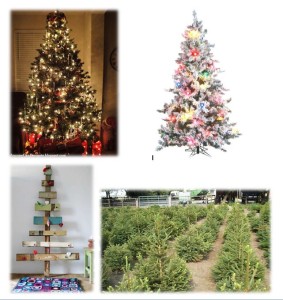 Sometimes your first Christmas tree is the hardest decision. You want to be environmentally friendly, and you want to make the right choice. On one hand if you purchase an artificial, you know you will have it for a very long time. They can be the exact shape and size with right amount of points you are looking for…for a price. If you purchase a pre-lit tree will the bulbs last the entire time or are you going to have to replace them eventually? Another thing to consider is storage. Do you have the space and location to be able to hide it for another year?
If you choose to go to a tree lot where real trees are sold, or you wish to cut down your first, you may be surprised that it is actually friendlier to the environment…to a point! You have to consider if you have to drive a distance to get to the trees you desire. That in itself can run the price up for the purchase. You have to consider what it takes to keep a tree from getting dry, and keeping it safe from potential hazards.
Education is the key. Make a pros and cons list for yourself to see how your decision weighs out. You might find this will give you the exact answer you are looking for. Don't stress out too much though! Tis the season to not only be jolly, but be merry, and have a memorable time with family and friends. So, keep it light and be happy with the decision that is right for you.